The Red Bolivian Fuchsia (Fuchsia boliviana) is a gorgeous, rare species from the Andes mountains that turns any garden into an exotic rain forest! Practically all year, this large, tree-sized Fuchsia sends down long, hanging clusters of 4 inch flowers of a vibrant fluorescent red. After flowering, it makes tasty, red fruits! This is an extremely showy species that deserves center-stage in the garden. And when grown next to the white-flowered form, the effect is stunning! Freshly picked seeds are rarely seen for sale.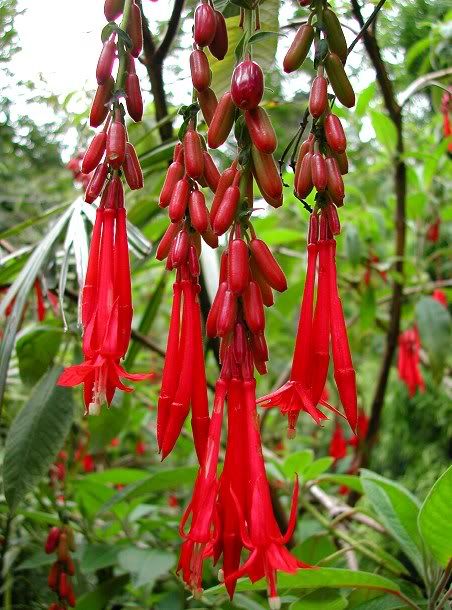 The Bolivian Fuchsia is an evergreen shrub or small tree that grows to around 15 feet tall. Its large stature and oversized leaves give it a great tropical look. It comes from cool cloud forests, where it doesn't freeze, but it also doesn't get very warm. It might not thrive in areas that regularly get above 85° F (29°C), particularly if nights are warm. If other Fuchsias grow in your area, you should be able to grow this one. It can only handle a few degrees of frost; protection from freezing temperatures is recommended. It grows well indoors, and may be pruned to any height that's convenient. It prefers filtered sun, or morning sun + bright shade. Over about 40% humidity is recommended. In the right conditions, it is a vigorous plant, blooming almost every month of the year! This species is resistant to Fuchsia mites.
Also see the beautiful white form!
The ancient Incas cultivated this exotic plant centuries ago, and the fruits are still sold in South American markets today. They taste sort of like Kiwi fruit or grapes, but not as sweet. Indoors, you'll need to pollinate the flowers with a paint brush if you want to get fruit. While the berries aren't as sweet as typical fruits, they're fun to munch on whenever passing by it!
Germination tips for this plant