My camera just doesn't capture the incredible colors of these flowers! The amazing Cantua 'Hot Pants' - also called "Magic Flower" - lights up each spring and occasionally other times of the year. It looks like a cross between a Fuchsia and a Brugmansia, but it's related to neither. The 4" trumpet flowers unfurl gracefully, with their exquisite color combination of sunset orange and hot pink. When lit from behind by the sun, they glow magically...
'Hot Pants' is a perennial bush that grows to 12 feet tall here in San Francisco. The plant comes from the cooler highlands, where temperatures are usually below 85° in the summer and above freezing in winter. There's conflicting information about how well it does outside that temperature range. To play it safe, i would protect it from frost, and give it afternoon shade in warmer climates. I'm not sure if it will thrive in hotter areas like Florida or Texas — consider it experimental there. It grows well in a pot indoors. It prefers part sun, well-draining soil, and regular watering. Over 40% humidity is recommended.
Cantua 'Hot Pants' is a hybrid between Cantua buxifolia and another species. The 'Hot Pants' cultivar is often incorrectly called Cantua buxifolia, which has smaller flowers and lacks the orange color on the tube (photo below). The 'Hot Pants' hybrid is exceptionally beautiful and never fails to arouse excitement.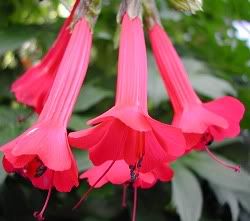 The original species above (Cantua buxifolia)
The 'Hot Pants' cultivar is extremely rare, and if do you find it, it's often Cantua buxifolia mislabeled as 'Hot Pants'. This is the genuine 'Hot Pants'.
Click here to check availability.
For detailed growing tips about this plant, click here.