My digital camera just doesn't capture the incredible colors of the Cantua 'Hot Pants' - also called "Magic Flower". These vivid blooms look like a cross between a Fuchsia and a Brugmansia, but the plant isn't related to either of them. The 4 inch long trumpet flowers unfurl gracefully, with their exquisite color combination of sunset orange and hot pink. When lit from behind by the sun, they glow magically...
Cantua 'Hot Pants' is a perennial bush that grows 10 to 12 feet tall here in San Francisco. It has slender, arching branches that look best if pruned regularly. It blooms the heaviest in Spring, with occasional blooms appearing in summer and autumn. The plant comes from the Andes mountains, where temperatures are mild all year and nights are cool. It's possible that it won't thrive if temperatures consistently get above 85 degrees F (28 degrees C) and nights are warm. I don't think it can survive much frost, so i recommend keeping it from freezing. It grows well indoors in a pot. It prefers part sun, with protection from strong afternoon sun. Grow it in well-draining soil that is kept evenly moist. Between 40 and 80% humidity is best.
My understanding is that 'Hot Pants' is a special hybrid between Cantua buxifolia (shown below) and Cantua cuzcoensis. 'Hot Pants' is exceptionally beautiful, with much larger flowers than Cantua buxifolia, which lacks the orange color. Cantua buxifolia is occasionally sold as 'Hot Pants'. I guarantee that plants i offer are the 'Hot Pants' shown here!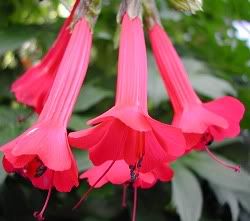 The original species above (Cantua buxifolia)
Detailed growing tips about this plant