The pink version of this plant is my most popular item, so i decided to offer a rare white form! Parrot's Beak (Clianthus puniceus) puts on a beautiful show of exotic flowers that resemble tropical bird bills! From about February through July the plant is covered with clusters of 3", crisp-white blooms that dangle like jewelry from pretty, fern-like foliage. This is an endangered species from New Zealand that may be extinct in the wild. The white Parrot's Beak is an intruiging, hard-to-find plant for the gardener who has everything!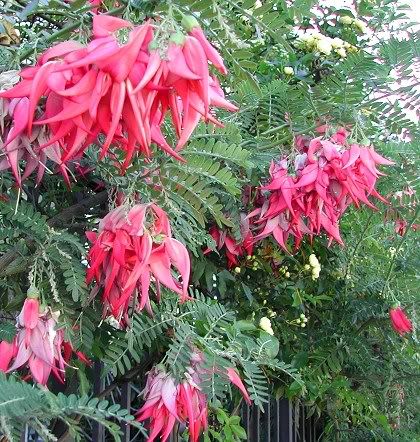 The pink form. Click here to see it!
Parrot's Beak is an easy-to-grow perennial bush in the Legume family that grows 4 to 8 feet tall and wide. Grow it outdoors in zones 9-11 - or grow it in a pot and bring it indoors each winter. It grows well in a sunny room, provided that the air isn't too dry. It takes either full sun or half shade. It does best with mid-day shade in warmer areas.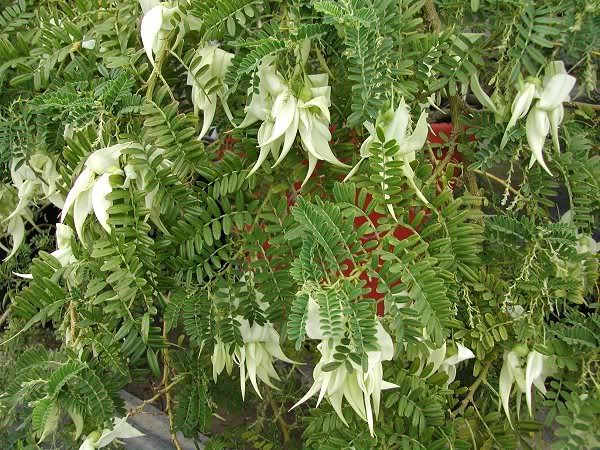 The plant was first discovered by Captain Cook in his famous journey to the South Seas. There are believed to be no natural stands of this plant left in the wild. The white form is rarely available in the United States. For maximum impact, grow both colors side by side and allow the branches to intertwine!