Brugmansia sanguinea - the Red Angel's Trumpet - is one of the most beautiful and sought-after of all Brugmansias. I'll warn everyone up front that this is a cool-climate species and does not do well in hot conditions. It may bloom occasionally in places like Florida, however i don't guarantee it. If you can provide the right conditions, you'll be rewarded with spectacular, scarlet-red trumpet flowers almost all year long! Fresh (not stored) seeds are rarely seen for sale.
The Red Brugmansia forms a small tree about 12 to 16 feet tall here in San Francisco. It may be grown in a pot and pruned to any size that is convenient. The flowers appear in waves all throughout the year. The tubular blooms average 7 to 9 inches long, and are a vivid orange-red or scarlet, depending on the temperature. Yellow veins run down the side of the tube, giving the blooms a pin-striped look. The flowers aren't fragrant - but the hummingbirds don't seem to mind! This is a true species, not a hybrid, so the seedlings will look like the parents.
Brugmansia sanguinea comes from higher elevations than typical Brugmansias, so it is used to mild daytime temperatures, and nights that are cool. Temperatures above the low 70s (23°C) can inhibit flowering, and the plant might decline if temperatures are consistently above 85° F (30°C), especially if nights are warm. It can survive brief dips down to 26-28° F (-2 to -3°C), but it's best to protect the plant from all frost. It prefers filtered sun, with protection from strong afternoon sun. Like other Brugmansias, it enjoys fertile, well-draining soil that's kept evenly moist. Over about 40% humidity is recommended.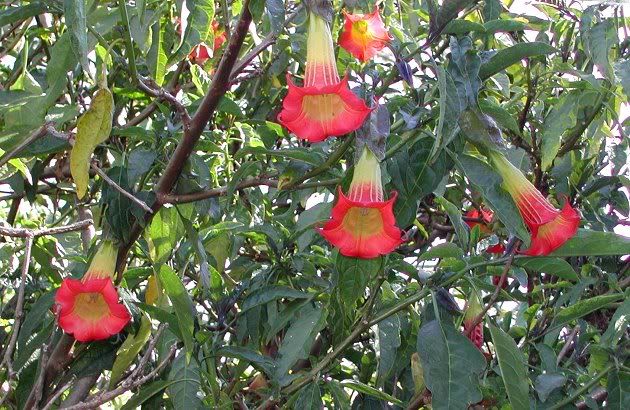 Unfortunately, fake seeds of it are being offered, especially from China. I guarantee that mine is the genuine red Brugmansia!
Germination tips for this plant