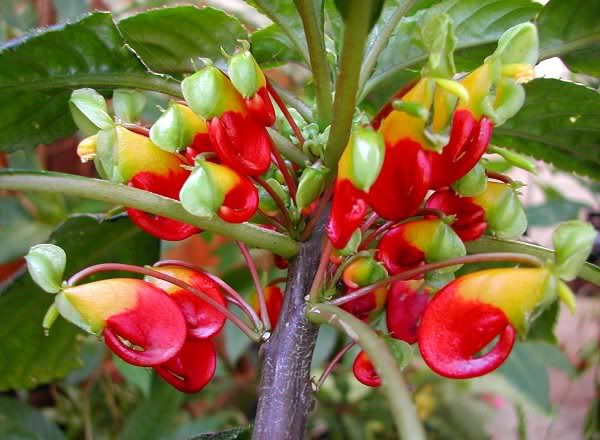 The Parrot Impatiens is an amusing rarity with swarms of bird-shaped blooms! This hard-to-find variegated form combines exciting leaf variegation with non-stop blooming! People are always surprised to learn this creature is an Impatiens. As exotic as it looks, it's a very easy plant to grow. Make room for another "pet" in the house!
The Parrot Impatiens (Impatiens niamniamensis) is an evergreen perennial species that grows 2 to 3 feet tall. It has a handsome "bonsai tree" look, thanks to its stocky growth and brown stems that resemble wood. The stems are actually succulent and flexible, like other Impatiens. The leaves have various shades of variegation, from creamy-white to greenish-yellow, and never revert to the original green form. The colorful, cornucopia-shaped blooms appear almost constantly throughout the year! The large, 1½ inch blooms are scarlet red and yellow, with a lime green hood. The red almost looks brushed on with paint. These exotic blooms emerge from all over the plant, even on the "old wood". You won't believe how many flowers this plant puts out! Kip in Ohio says, "Your photos don't do the plant justice - the blooms are amazing!"
Parrot Impatiens comes from tropical Africa and needs Zone 10 conditions - preferably above 50°F. It can tolerate dips into the 40s, but it cannot take any frost. Fortunately it grows well indoors in a pot. It makes a wonderful, upbeat houseplant! It prefers bright shade or filtered sun - protect it from strong afternoon sun exposure. Like most Impatiens, it enjoys moist, well-draining soil, regular feeding, and some humidity. It can tolerate heat, but temperatures below 85 degrees are preferred.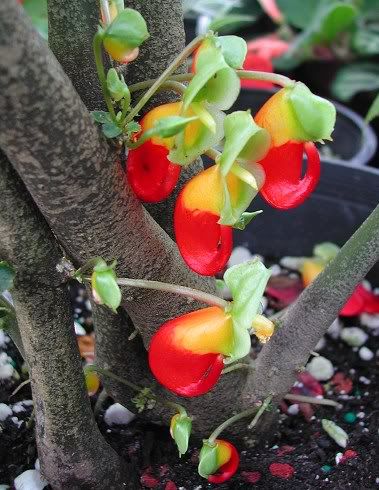 Click here to check availability.
For detailed growing tips about this plant, click here.